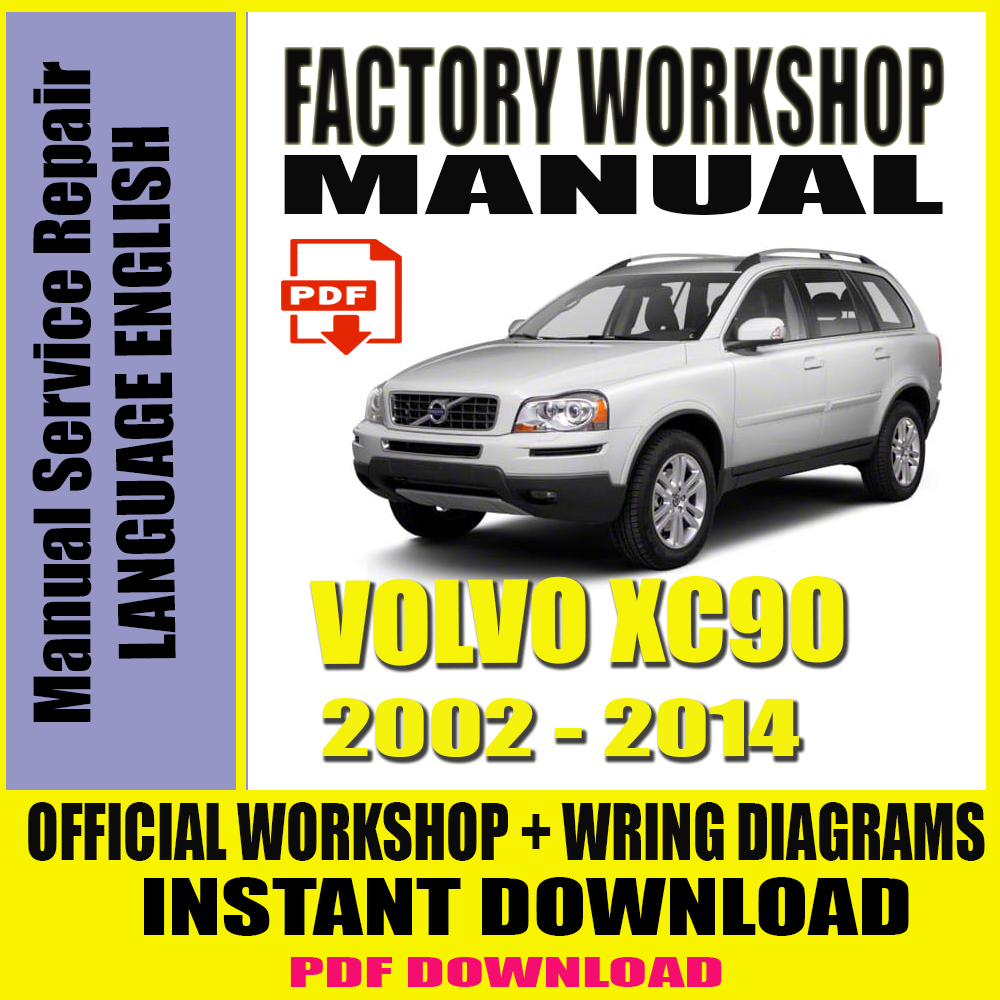 Hover
Hover
Hover
Hover
Hover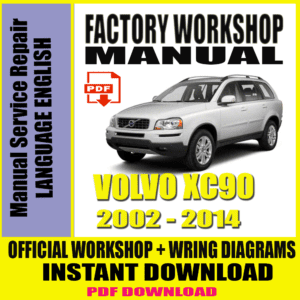 VOLVO XC90 2002-2014 MANUAL SERVICE & REPAIR
$ 7,99
OFFICIAL WORKSHOP MANUAL
+Wiring Diagrams
FACTORY REPAIR SERVICE MANUAL
SAME AS VOLVO SERVICES USE
Description
VOLVO XC90 2002-2014 WORKSHOP MANUAL SERVICE & REPAIR
VOLVO XC90 OFFICIAL FACTORY WORKSHOP SERVICE & REPAIR MANUAL INCLUDES WIRING DIAGRAMS!
VOLVO XC90 OFFICIAL WORKSHOP MANUAL
+Wiring Diagrams
FACTORY REPAIR SERVICE MANUAL
SAME AS VOLVO SERVICES USE
Technical Information
Applies to
VOLVO XC90
2002-2014
MODELS
XC90
MODEL YEARS
2002, 2003, 2004, 2005, 2006, 2007, 2008, 2009, 2010, 2011, 2012, 2013, 2014
ENGINES
3.2L 6-Cyl. SFI, 4.4L V8 SFI
GEARBOXES
Automatic, Manual
No. OF PAGES
~35120
LANGUAGE
ENGLISH
WIRING
YES
Content
Contains all the official VOLVO manufacturer specifications, repair instructions step by step with illustrations and wiring diagrams.
TABLE OF CONTENTS
GENERAL INFORMATION
BRAKES
LIGHTING
CHASSIS
DRIVELINE AND AXLES
MAINTENANCE
DTC
ELECTRICAL
RESTRAINTS
ELECTRICAL COMPONENT LOCATOR
ENGINE
STEERING
ACCESSORIES AND EQUIPMENT
ENGINE PERFORMANCE
SUSPENSION
HVAC
BODY AND FRAME
TRANSMISSION
FEATURES OF THE WORKSHOP MANUAL
This is the Official Factory Workshop Manual exactly the same as used by the car manufacturer to build your car and exactly the same as is used by the car manufacturers services when they are fixing your car! Follow official repair and diagnostic procedures step by step!
This is 100 complete and 100 approved Workshop Manual
Easy access to the Workshop Manual from any device
The Workshop Manual is in PDF file format
In the Workshop Manual is Search option (press Crtl + F) so you can find any keyword
In the Workshop Manual, there is a Table of Contents!
Illustrated Repair Procedures (Step by Step) with explanations, Full technical information and specifications, diagnosis encoding, and schematics! See section CONTENT above for more information
You can print out any page or even the whole chapter you need or you can simply print out all pages
Full Technical Information System (TIS) for your car!
COMPATIBILITY
Fully compatible with all systems i.e. Android, iOS, Windows, Linux
Fully compatible with all devices like Notebook, Laptop, Mac, Tablet, Smartphone, PC, etc.