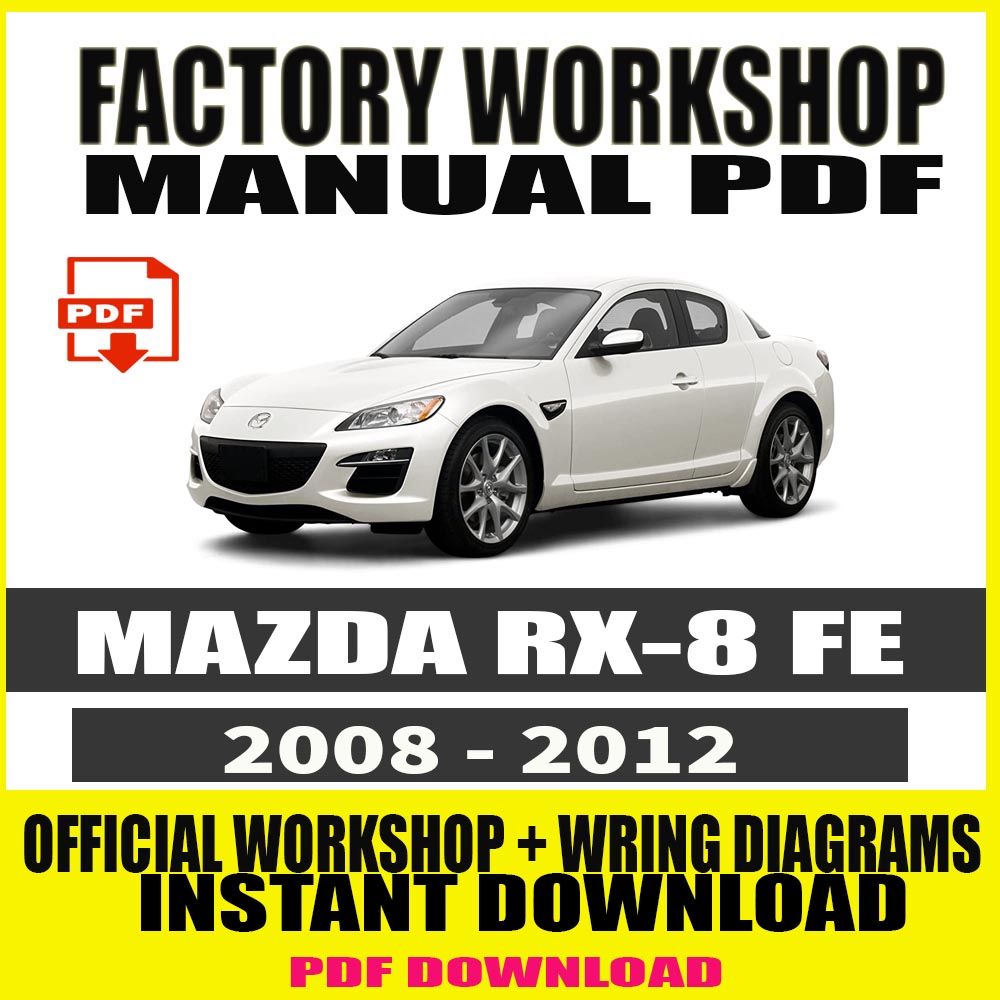 Hover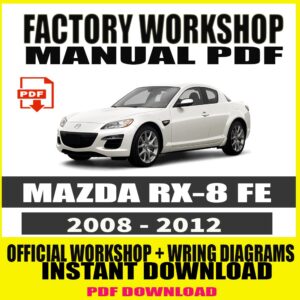 Mazda RX-8 FE 2008-2012 Workshop Service Repair Manual
$ 7,99
OFFICIAL WORKSHOP MANUAL
+Wiring Diagrams
FACTORY REPAIR SERVICE MANUAL
SAME AS MAZDA SERVICES USE
Description
OFFICIAL WORKSHOP Service Repair MANUAL for Mazda RX-8 FE 2008-2012 +WIRING
OFFICIAL WORKSHOP MANUAL
+Wiring Diagrams
FACTORY REPAIR SERVICE MANUAL
SAME AS MAZDA SERVICES USE
Technical Information
Applies to
Mazda RX8 FE 2008-2012
MODELS
RX-8
MODEL YEARS
2008, 2009, 2010, 2011, 2012
LANGUAGE
ENGLISH
WIRING
YES
Content
Contains all the official MAZDA manufacturer specifications, repair instructions step by step with illustrations and wiring diagrams.
TABLE OF CONTENTS
GENERAL INFORMATION
AIRBAG SYSTEM
ANTI-LOCK BRAKES
A SHIFT MECHANISM
AUTOMATIC TRANSMISSION
AXLE GENERAL PROCEDURES (FRONT AND REAR)
BODY AND ACCESSORIES DATA+SST
BODY PANELS
BODYSHOP MANUAL
BRAKES DATA AND SST
BRAKES GENERAL PROCEDURES
BRAKES ON-BOARD DIAGNOSTICS
BRAKES SYMPTOM TROUBLESHOOTING
BRAKES-DYNAMIC STABILITY CONTROL
CHARGING SYSTEM
CLUTCH SYSTEM
CONVENTIONAL BRAKE SYSTEM
COOLING SYSTEM
CRUISE CONTROL SYSTEM
DIFFERENTIALS
DOORS AND LIFTGATE
DRIVELINE-AXLE DATA AND SST
DRIVESHAFT
EMISSION SYSTEM
ENGINE CONTROL SYSTEM
ENGINE DATA AND SST
ENGINE MECHANICAL
ENGINE ON-BOARD DIAGNOSTIC
ENGINE SYMPTOM TROUBLESHOOTING
ENTERTAINMENT SYSTEM
EPS- POWER STEERING
EXHAUST SYSTEM
EXTERIOR TRIM
FRONT AXLE
FRONT SUSPENSION
FUEL SYSTEM
GLASS WINDOW MIRRORS
HVAC BASIC SYSTEM
HVAC CONTROL SYSTEM (FULL-AUTO)
HVAC CONTROL SYSTEM (MANUAL)
HVAC DATA AND SST
HVAC ON-BOARD DIAGNOSTICS
IGNITION SYSTEM
INSTRUMENTATION AND DRIVER INFO
IN-TAKE AIR SYSTEM
INTERIOR TRIM
LIGHTING SYSTEM
LUBRICATION SYSTEM
MANUAL TRANSMISSION
PARKING BRAKE
POWER SYSTEMS
PROPELLER SHAFT
REAR-AXLE
REAR SUSPENSION
REFRIGERANT SYSTEM
RESTRAINT ON-BOARD DIAGNOSTICS
RESTRAINT SYMPTOM TROUBLESHOOTING
RESTRAINTS SST
SEAT BELT
SEATS
SECURITY AND LOCKS
STARTING SYSTEM
STEERING DATA AND SST
STEERING GENERAL PROCEDURES
STEERING ON-BOARD DIAGNOSTICS
STEERING SYMPTOM TROUBLESHOOTING
SUNROOF
SUSPENSION DATA AND SST
SUSPENSION GENERAL PROCEDURES
SUSPENSION ON-BOARD DIAGNOSTIC
SUSPENSION SYMPTOM TROUBLESHOOTING
SYMPTOM TROUBLESHOOTING (AUTO AC)
SYMPTOM TROUBLESHOOTING (MANUAL AC)
TRANSMISSION DATA AND SST
TRANSMISSION ON-BOARD DIAGNOSTICS
TRANSMISSION SYMPTOM TROUBLESHOOTING
WHEEL ALIGNMENT
WHEEL AND TIRE
WIPER WASHER SYSTEM
WIRING DIAGRAM INFO
WIRING DIAGRAM
more about Manual
With the Official Workshop Manual, you will repair & maintain car like every official and authorized service
Only here you will get complete Factory manuals.
Contains Table of Contents and Search Option – just find any keyword
Easy access: Buy, Pay, Download, Save on your device and Use!
Downloadable version
Factory workshop manual/factory service manual for the 2008 to 2012 model year Mazda RX-8 Series 2 with chassis code FE. This manual covers all topics related to servicing, maintenance, general repairs, advanced repairs, and troubleshooting guides for engine, gearbox, differential, suspension, steering, brakes, body panels, interior components, and electrical systems, including wiring diagrams, troubleshooting, and diagnostic advice. A complete repair manual for the 2008 to 2012 Mazda RX-8 Series 2.
ABOUT THE MANUAL & IMPORTANT INFORMATION
The workshop manual is the same as used in official and authorized Dealer services and professional automotive services
You can follow all processes exactly as the car manufacturer recommended – maintain your car in the same way as professional and official services do
The PDF file is compatible with all systems i.e. Android, iOS, Windows, Linux
The PDF file is compatible with all devices like Notebook, Laptop, Tablet, Smartphone, PC, etc.
You can find any keywords in the Workshop Manual by search option
The Workshop Manual contains a Table of Contents
Any page, chapter, or whole manual can be printed out at every moment
The manual contains:
All official manufacturer specifications (for example Tightening torques, parts/ tools numbers, and specifications)
Repair instructions and information step by step
Maintenance guidance
A lot of diagrams
Ilustrations and tables
Why PDF instead of CD-ROM or Printable version?
You save the environment
You are able to recover the manual every time, you will not lose it.
You can download and save the Workshop Manual on every device
You can print out every page, chapter, or a whole manual if you need -every time
Ilustrations and tables.