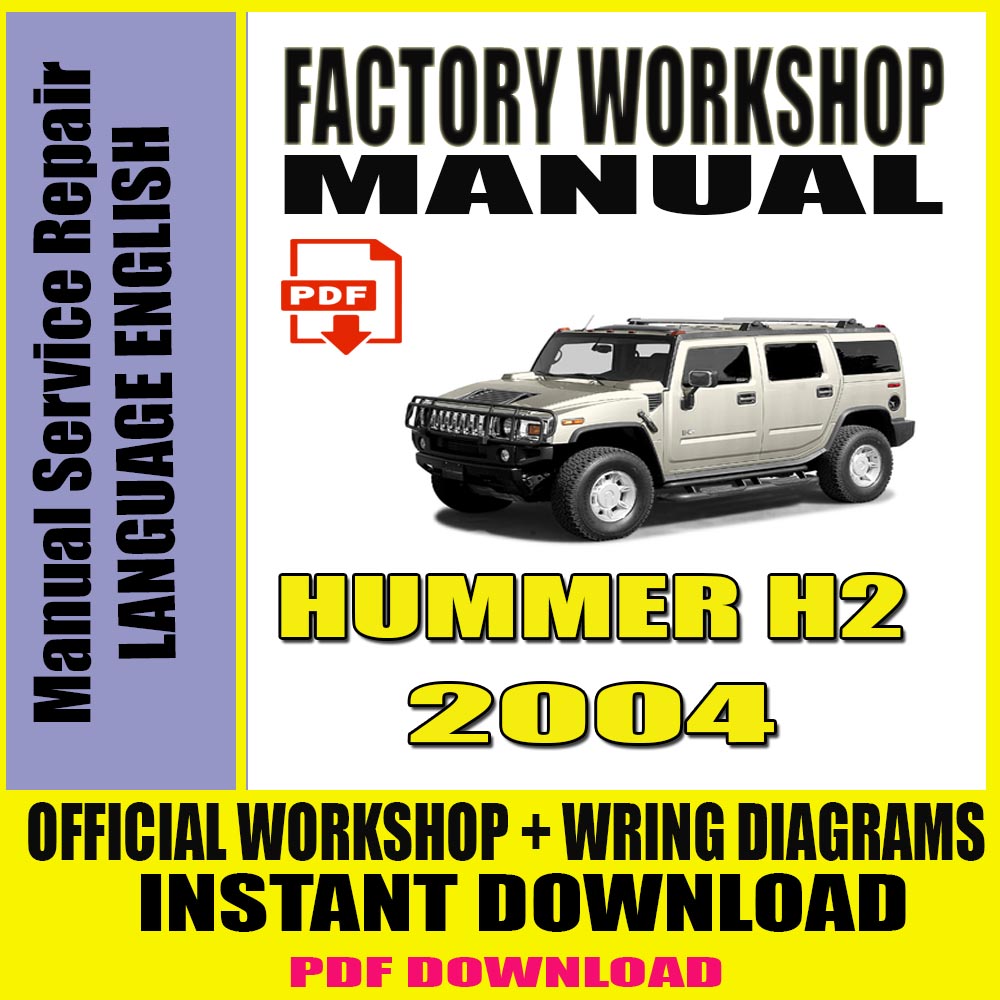 Hover
HUMMER H2 2004 FACTORY WORKSHOP SERVICE REPAIR MANUAL +WIRING
$ 7,99
Description
HUMMER H2 2004 FACTORY WORKSHOP SERVICE REPAIR MANUAL +WIRING
OFFICIAL WORKSHOP MANUAL +Wiring Diagrams
FACTORY REPAIR SERVICE MANUAL
SAME AS HUMMER SERVICES USE
Applies to HUMMER H2 2004
H2
2004
PETROL
AUTOMATIC
~5000
ENGLISH
YES
CONTENT
Contains all the official HUMMER manufacturer specifications, repair instructions step by step with illustrations and wiring diagrams.
TRANSAXLE-TRANSMISSION
TECHNICAL SERVICE BULLETINS
SUSPENSION
STEERING
RESTRAINS
MAINTENANCE
HVAC
GENERAL INFORMATION
ENGINE PERFORMANCE
ENGINE
ELECTRICAL
DRIVELINE-AXLES
BRAKES
ACCESSORIES
You can repair cars like every official, authorized & professional service (You get a Factory repair service manual)
You receive your service manual much faster and easy access to PDF file – Sometimes it may take longer due to payment acceptance
It contains a Table of Contents and Search Option – find any keyword
It is easy to use: Buy, Pay, Download, Save on your device, and Use!
A downloadable version of the manual is environmentally friendly
You can always print any number of pages or even the whole manual if you want
You will never lose your manual copy
Manual works on every device such as PC/Smartphone/Tablet/Notebook
It works on every system like Windows, IOS, Android, etc.
You don't need special software because your device should have it as the default
Your PDF workshop manual always remains safe on your PC/Smartphone/Tablet/Notebook while the CD version with manual on it may get damaged
We don't use postage so you don't have to pay for it!
!WE HAVE TOP SERVICE!
Friendly customer service which will try to resolve every case
OTHER LISTINGS
Check our other listings with WORKSHOP MANUALS. If you haven't found a manual for your car please contact us!