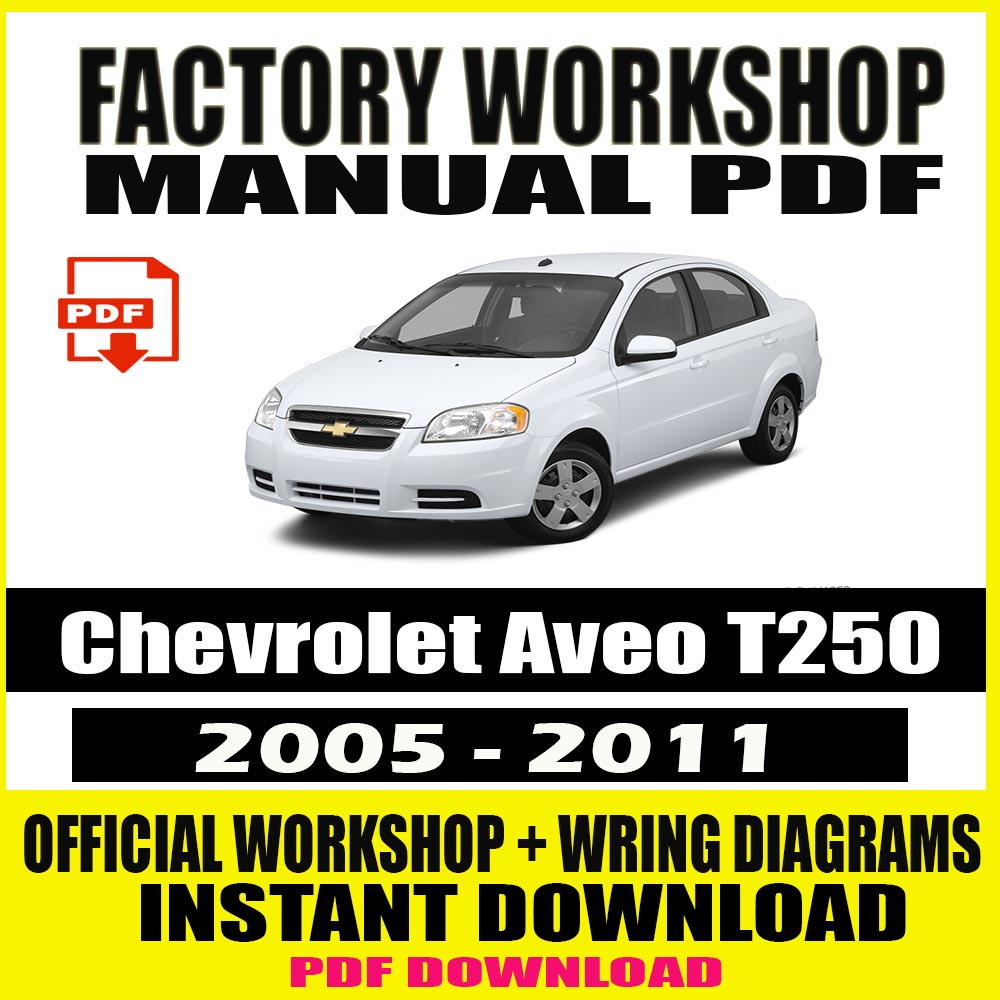 Hover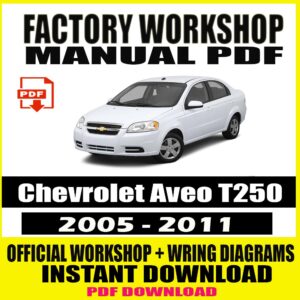 Chevrolet Aveo T250 2005-2011 Workshop Manual Service Repair
€ 7,43
OFFICIAL WORKSHOP MANUAL
+Wiring Diagrams
FACTORY REPAIR SERVICE MANUAL
SAME AS Chevrolet SERVICES USE
Description
Chevrolet Aveo T250 2005-2011 Workshop Manual Service Repair
Official Workshop Manual +Wiring Diagrams Factory Service Repair Manual
The same as used in the Official Car Dealer Services (Yes, this is the one which Authorised Services use when they want to fix your car). Follow the official guidelines in your garage! Be like professional and official & authorized services!.
OFFICIAL WORKSHOP MANUAL
+Wiring Diagrams
FACTORY REPAIR SERVICE MANUAL
SAME AS Chevrolet SERVICES USE
Technical Information
Applies to
Chevrolet Aveo T250 2005-2011
MODELS
Aveo T250 series
MODEL YEARS
2005, 2006, 2007, 2008, 2009, 2010, 2011
ENGINES
1.2L, 1.4L (L95), 1.4L (LDT), 1.5L, 1.6L (LXT), 1.6L (LXV)
GEARBOXES
Automatic, Manual
No. OF PAGES
~1662
LANGUAGE
ENGLISH
WIRING
YES
Content
Contains all the official Chevrolet manufacturer specifications, repair instructions step by step with illustrations and wiring diagrams.
TABLE OF CONTENTS
ABS
body repair
Bumper and facia
Cellular, Entertainment, and Navigation
Cigar Lighter Housing
Clutch
Cruise Control
Disc brakes
Drum Brakes
Engine Controls and Fuel – 1.2L
Engine Controls and Fuel – 1.4L (L95)
Engine Controls and Fuel – 1.4L (LDT)
Engine Controls and Fuel – 1.5L
Engine Controls and Fuel – 1.6L (LXT)
Engine Controls and Fuel – 1.6L (LXV)
Engine cooling
Engine Electrical
Engine Exhaust
Exterior_trim
Fixed and Moveable Windows
Floor Coverings and Headlining
Front Drive Axle
Front suspension
GENERIC TROUBLE CODES
GM TROUBLE CODES
Horns
HVAC – Automatic
HVAC – Manual
HVAC
Hydraulic Brakes
Immobilizer
Instrument Panel and Console Trim
Interior Trim and Paneling
Lighting
Manual Steering
Mirrors
Park Brake
Power steering
Rear suspension
Remote functions
Seat Belts
Seats
Shift_lock_control
SIR
Steering Wheel and Column
Steering wheel Control Switch
Sunroof
Theft Deterrent
Vehicle Access
Wipers and Washers
ABOUT THE MANUAL & IMPORTANT INFORMATION
The workshop manual is the same as used in official and authorized Dealer services and professional automotive services
You can follow all processes exactly as the car manufacturer recommended – maintain your car in the same way as professional and official services do
The PDF file is compatible with all systems i.e. Android, iOS, Windows, Linux
The PDF file is compatible with all devices like Notebook, Laptop, Tablet, Smartphone, PC, etc.
You can find any keywords in the Workshop Manual by search option
The Workshop Manual contains a Table of Contents
Any page, chapter, or whole manual can be printed out at every moment
The manual contains:
All official manufacturer specifications (for example Tightening torques, parts/ tools numbers, and specifications)
Repair instructions and information step by step
Maintenance guidance
A lot of diagrams
Ilustrations and tables
Why PDF instead of CD-ROM or Printable version?
You save the environment
You are able to recover the manual every time, you will not lose it.
You can download and save the Workshop Manual on every device
You can print out every page, chapter, or a whole manual if you need -every time
Ilustrations and tables.
Chevrolet Aveo T250 Workshop Manual,
Chevrolet Aveo T250 Repair Manual,
Chevrolet Aveo T250 Service Manual,
Chevrolet Aveo T250 Wiring Diagrams,