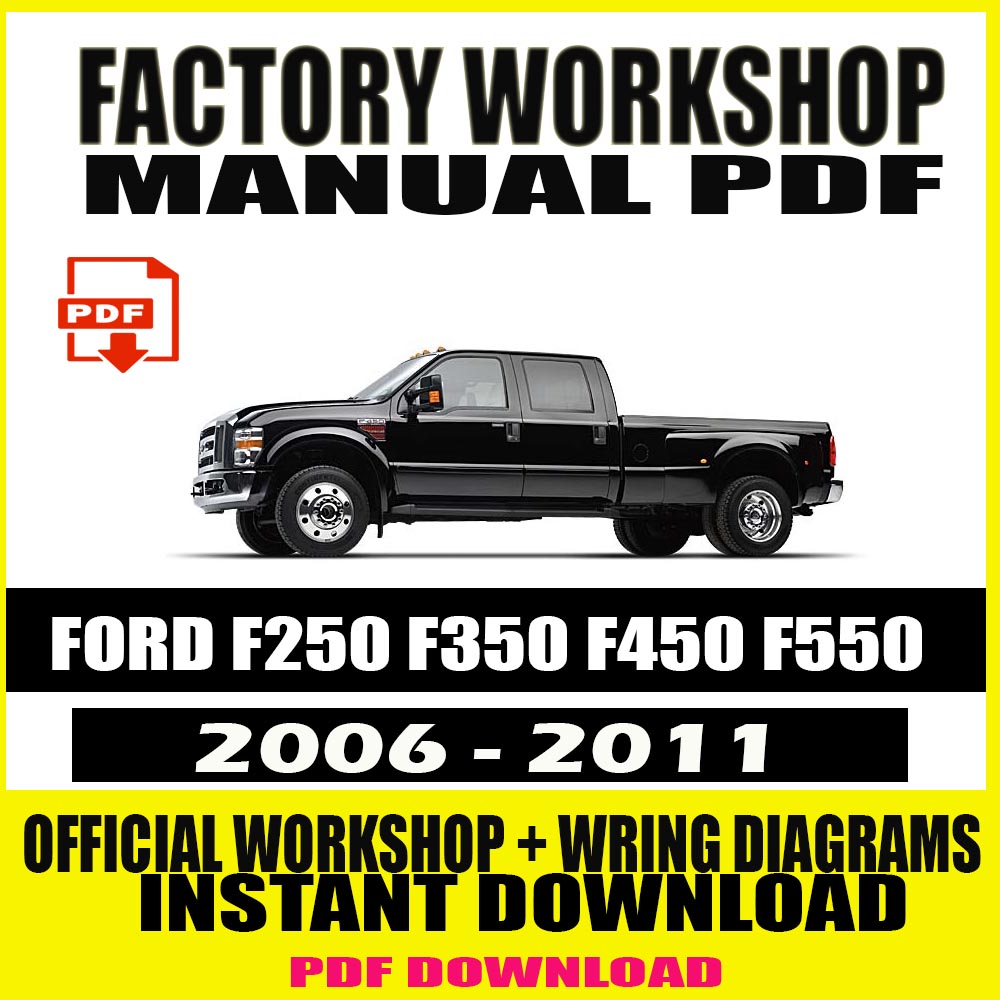 Hover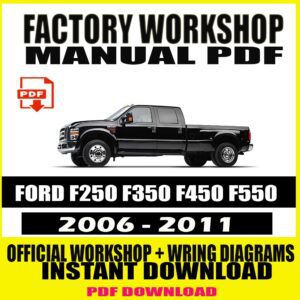 FORD F250 F350 F450 F550 2006-2011 MANUAL SERVICE REPAIR
$ 7,99
OFFICIAL WORKSHOP MANUAL
+Wiring Diagrams
FACTORY REPAIR SERVICE MANUAL
SAME AS FORD SERVICES USE
Description
WORKSHOP MANUAL SERVICE & REPAIR GUIDE for FORD F250 F350 F450 F550 2006-2011
FORD F250 F350 F450 F550 OFFICIAL FACTORY WORKSHOP
SERVICE & REPAIR MANUAL
The same as used by the car manufacturer to build your car!
Exactly the same as used by Official and Authorised Car manufacturers' Services to fix your car!
100% Complete and 100% Approved
The best and the most complete Workshop Manual on eBay from Certified and Official dealer!
Technical Information
Applies to Ford Super Duty
FORD F250 F350 F450 F550
No. OF PAGES
~6700
MODELS
F250 F350 F450 F550
MODEL YEARS
2006, 2007, 2008, 2009, 2010, 2011
ENGINES
5.4L, 6.0L, 6.4L, 6.7L
GEARBOXES
Automatic, Manual
WIRING DIAGRAMS
YES
LANGUAGE
ENGLISH
CONTENT
In the Workshop Manual you will find:
All Official Factory Car Manufacturers' specifications like parts and tools numbers, tightening torques specification, lubricants specifications, and guides.
Diagrams, illustrations, tables with technical information,
Detailed documentation and repair instruction step by step with diagnostic procedures
Maintenance guide
Engine Supplements
Everything you need to make professional repairs and maintenance of your car! Exactly the same Workshop Manual as official and authorized services use.
Everyone will find useful information, doesn't matter if you are a garage, mechanic, or just a car's user. Offer professional technical procedures and managing of your job to your customer! Perform the repair in a professional way.
TABLE OF CONTENTS
WORKSHOP MANUAL CONTAINS
INTRODUCTION
GENERAL INFORMATION
POWERSTROKE OIL FILTER CHANGE GUIDE
TORQUE_CHARTS
TURNPCHARGER GUIDE
MULTIFUNCTION ELECTRONIC MODULES
SPECIFICATIONS-ACCELERATION CONTROL
SPECIFICATIONS-ACCESSORY DRIVE
SPECIFICATIONS-ABS AND STABILITY CONTROL
SPECIFICATIONS-AUTOMATIC TRANSAXLE-TORQSHIFT
SPECIFICATIONS-AUTOMATIC TRANSAXLE EXTERNAL CONTROLS
FUEL FILTER CHANGE GUIDE
METRICS
AUDIO & ENTERTAINMENT
AUTOMATIC TRANSMISSION
BATTERY & CHARGING SYSTEM
BODY SYSTEM
BRAKE SYSTEM
CLIMATE CONTROL SYSTEM
DRIVELINE SYSTEM
ELECTRIC FEATURE GROUP
ELECTRICAL DISTIBUTION
ENGINE DIESEL 6.7L
5.4L PETROL ENGINE
ENGINE POWERSTROKE 6.0L
ENGINE SYSTEM 6.4L
EXHAUST SYSTEM
FRAME AND MOUNTING
FUEL SYSTEM
INSTRUMENTATION & WARNING
LIGHTING SYSTEM
STEERING SYSTEM
SUSPENSION
ABOUT THE MANUAL & IMPORTANT INFORMATION
The workshop manual is the same as used in official and authorized Dealer services and professional automotive services
You can follow all processes exactly as the car manufacturer recommended – maintain your car in the same way as professional and official services do
The PDF file is compatible with all systems i.e. Android, iOS, Windows, Linux
The PDF file is compatible with all devices like Notebook, Laptop, Tablet, Smartphones, PC, etc.
You can find any keywords in the Workshop Manual by search option
The Workshop Manual contains a Table of Contents
Any page, chapter, or whole manual can be printed out at every moment
The manual contains:
All official manufacturer specifications (for example Tightening torques, parts/ tools numbers, and specifications)
Repair instructions and information step by step
Maintenance guidance
A lot of diagrams
Ilustrations and tables
Why PDF instead of CD-ROM or Printable version?
You save the environment
You are able to recover the manual every time, you will not lose it.
You can download and save the Workshop Manual on every device
You can print out every page, chapter, or whole manual if you need -every time
Ilustrations and tables.
FORD F250 F350 F450 F550 2006-2011 MANUAL SERVICE REPAIR PDF.